My nine-year-old son wanted a quadcopter this Christmas, an idea I was honestly a little excited about myself.  After a bit of investigation, the Syma X5C-1 appeared to be the perfect option, offering great stability and the ability to fly it outdoors.  As a bonus, it also comes with a built-in HD camera.  I was able to find it at GearBest for $50 ($68 with expedited shipping and extra battery).  Reviews for this quadcopter are plentiful, so I won't kill you with detail, but I thought I should share my impressions along with some samples from the camera.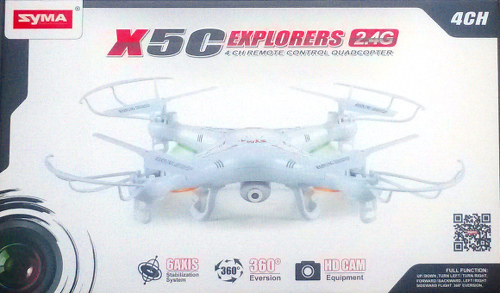 The Good
The Syma X5C-1 comes with everything you need to get started:
Quadcopter with camera
Controller
Extra propellers
Propeller guards
2GB Micro SD card with USB reader
3.7v 500mAH battery
USB battery charger
Screwdriver for controller battery cover and blades
User manual
The best thing about this quadcopter is that it's really easy to just pick up the controller and start flying.  Within just a few minutes of opening the box, both my son and I were flying it around well enough that it almost looked like we knew what we were doing.  We kept it low and close to start out, and neither of us experienced any hard crashes.  For the first few outings, we stayed in low speed mode while we got the hang of it, but now we're able to enjoy the higher speed mode and its accompanying agility.
We have had a few mishaps with the X5C-1, including a few lengthy drops onto asphalt.  Besides a few scrapes, however, it's still going strong, and we haven't needed to dip into the extra propellers.  My impression is that replacement parts are inexpensive and relatively easy to come by should we require them in the future.  In general, the X5C-1 is pretty sturdy and well worth $50.
The Bad
It's hard to be too judgmental of a $50 quadcopter that offers great stability and outdoor flight, along with an HD camera.  But for the sake of being thorough, I'll do it anyway.
The biggest problem with the X5C-1, in our experience, seems to be one of range and/or responsiveness.  On several occasions, we have found ourselves at the edge of our range more quickly than anticipated.  Instead of falling to the earth, which I would probably prefer, the quadcopter becomes unresponsive to the controls and may drift away, forcing us to give chase.  Range can be improved by adding an external antenna, as described here.  I can vouch for its effectiveness, having already performed this "hack" yesterday myself.
The camera is a nice addition, but the quality is pretty bad.  Still images are consistently blurry, even in full sun when we attempt to keep the quadcopter as still as possible.  Videos are also blurry, shaky, and jittery, not just from the quadcopter's movement, but from some apparent deficiency of the camera itself.  In spite of its shortcomings, I'm still glad the camera is there.  It is removable, and some have replaced it with alternatives such as this one.  Cheaper alternatives can also be found on eBay.
Still Image Samples
I've provided a few examples of still images taken by the X5C-1 below (click to expand).  The first was taken late in the afternoon as the sun was going down.  The others were taken in full sun.  As you can see, the quality leaves a lot to be desired.
It's also worth mentioning that the JPEG files produced might not be well-liked by some software.  While my Mac doesn't complain in Preview, I had some trouble uploading them to WordPress.  I finally tried opening them in Gimp and got the following warnings.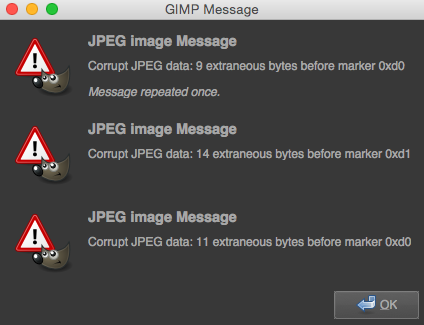 Video Samples
I've thrown some sample videos together, taken over the course of a few days under a few different lighting conditions.  It's loud and far from interesting, but it will give you an idea of the quality we're seeing.  I recommend watching it in full-screen mode at 720p resolution.
Conclusion
The Syma X5C-1 really is a fantastic quadcopter for someone on a budget who wants to get in on the fun.  I would not hesitate to either recommend it or buy it again myself if I needed another.  Now that we've gotten our hands on a quadcopter, I'm afraid we're hooked.  It's proven to be easy and very fun to fly, even for a couple of novices.  In a perfect world, we'd look at something like the DJI Phantom 2 Vision as a next step, which offers greater range and flight time, along with GPS waypoints and a go-home feature.  However, I'm not sure I could justify that kind of an expense at this point, so we'll likely consider building our own.
The Syma X5C-1 is still available at GearBest.com for $49.99 with coupon code GBX5C.