Amazon shut down its giveaway program back in October of 2019. It was a lot of fun while it lasted.
In what little spare time I've had lately, I put together a new web site, Giveaway.City, that provides an up-to-date list of Amazon Giveaways. If you've never participated in an Amazon Giveaway, they're actually pretty great. With just your Amazon account, you can enter to win all kinds of prizes, from Kindle books to iPhones. The best part is that none of your personal information is shared with third parties. Some giveaways are of the instant win variety, and you'll know within a few clicks if you've won. Others are sweepstakes or drawings in which the winner is selected from all of the submissions at the end.
There are a handful of websites already providing a list of giveaways, but I wanted something a little more robust than what I had seen available. With that in mind, I created Giveaway.City with the following features:
Mobile Friendly
I'm tempted to say something like, "the web site looks great at any screen size", but humility and a realization that I'm not a graphic designer keeps me from doing so. But thanks to a responsive design, I will say that the site is very usable, even on low-resolution screens such as the iPhone 4's.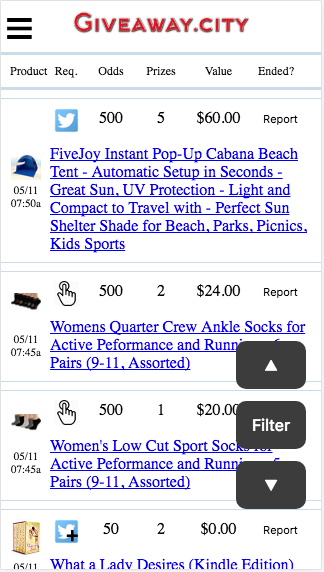 Filters
At any given moment there are nearly a thousand active Amazon Giveaways. As I write this, 36% of the active giveaways are for Kindle books. For the person who doesn't happen to own a Kindle or doesn't want any new books at the moment, why not filter them out? Well guess what – you can. Multiple criteria can be set up such that a user only sees the giveaways relevant to his/her tastes.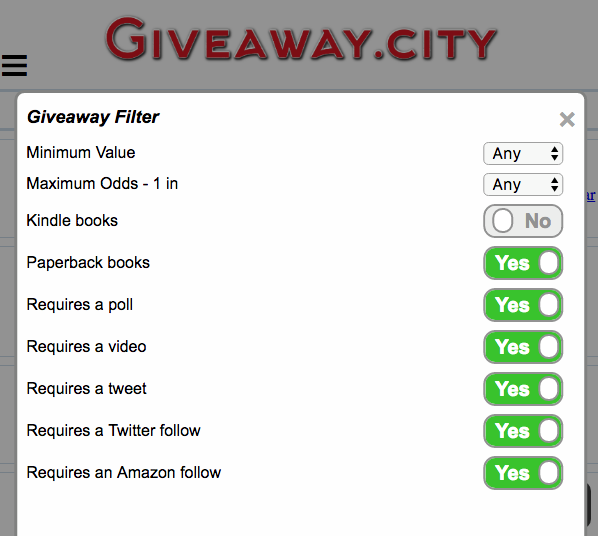 Automatic Refresh
Doing a full page refresh every time you want to check for new giveaways is taxing on both the user and the server. Instead, Giveaway.City lets you sit back and wait for the giveaways to come to you. Every few minutes, and timed perfectly to get the latest giveaways as they become available, the page will check for new giveaways and update the list. Additionally, any giveaways that have expired since the last update will be automatically removed. But how will I know there are new fresh, juicy giveaways, ripe for clicking? Read on.
Notifications
So, the automatic refresh is great. New giveaways will pop into my list every few minutes, and I don't have to do anything. But what if I'm working in another browser tab and want to know when the perfect giveaway (one that matches my filter) becomes active? Well, there's a solution for that. The user can set preferences to play a sound or even vibrate when new giveaways are added. If a filter is active, only giveaways matching the filter criteria will cause a notification to fire.

Preferences
Many features of the web site can be customized to the user's liking. Preferences are stored in the browser's local storage so that they remain consistent from session to session. I'll describe the preferences in more detail below.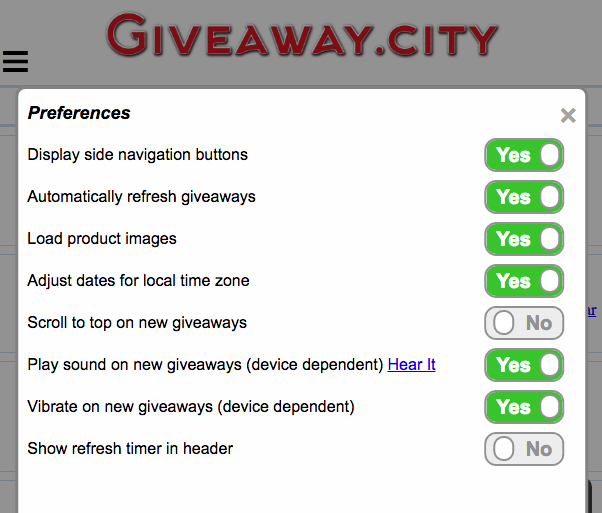 Display side navigation buttons – A fixed navigation menu is normally visible in the lower righthand corner of the screen. This lets the user quickly navigate to the top/bottom of the list or can open the filter menu.
Automatically refresh giveaways – If a user doesn't want to automatically check for new giveaways, this feature can be turned off.
Load product images – By default, a thumbnail of the product image will be displayed in the table. This can be turned off to save bandwidth.
Adjust dates for local time zone – All dates in the system are in CST (Central Standard Time). By default, these will be adjusted to the time zone utilized by the user's browser.
Scroll to op on new giveaways – When this option is selected, the page will automatically scroll to the top whenever new giveaways (matching filter criteria) are added to the list.
Play sound on new giveaways – Plays a "ding" tone when new giveaways arrive. This may not work on all devices.
Vibrate on new giveaways – Vibrates the device in three short pulses when new giveaways arrive. This may not work on all devices.
Show refresh timer – Shows a small indicator on column header bar that indicates when to expect the next giveaway update. I actually threw this in for myself as I was developing/debugging so I could see that everything was working. I decided to leave it because it can be handy. The more black in the circle, the closer you are to an update.

Conclusion
So, there you have it – Giveaway.City. It's a big list of stuff you can win, and hopefully I've succeeded in making it just tad easier to do so.