I've been a solar customer for just a few days shy of a year now – long enough that I've  gone through a full cycle of electric bills since the system was installed and made operational.  I was hesitant to move forward with solar energy at first.  The cost of installing one's own system was prohibitive, and signing a 20-year lease agreement with a solar provider seemed a bit daunting.  After much consideration and calculation, however, I decided to move forward with the lease.  This option offered free installation (after rebate), and based on even my most skeptical math, I would save at least $150 in the first year.  Luckily, I've done a little better than that, and I'm quite satisfied with my decision.
I'm writing this post in hopes that it will help others who might be considering signing a contract with a solar provider but don't have any evidence beyond sales literature to guide their decision.  I've been faithfully tracking savings since my system went live, and I'll share the details below.  You'll also find a calculator on the page that shows how power companies' tiered pricing works, and how solar can offset those costs.
Background
I live in Southern California where electricity rates are high and the summers are hot.  We have a pool to keep us cool outside, and we don't have much choice but to rely on the air conditioner to keep us cool inside.  We have taken steps to minimize our electricity usage over the last few years, such as using LED and compact fluorescent bulbs where it makes sense and replacing an older single speed pool pump with a newer variable speed model.  In general, our electricity usage is relatively low, especially for a home with a pool.  When the summer hits, however, it's not uncommon for us to see an electric bill of $350 or more.  Depending on where you live and how much power you use, that may seem outrageously expensive or not bad at all.  I see it as an unavoidable expense that I hope to minimize.
My power company, Southern California Edison, uses tiered rates, meaning the more electricity I use, the more I start to pay per kilowatt hour.  So, an hour of running the pool pump at the beginning of the month will cost me $0.13, but once I've gone beyond the baseline usage for the month and move into the upper tiers, it might cost me as much as $0.31 an hour.  What a good solar provider will do, assuming your goal is to save money, is try to offset your dependency on the power company with solar power to keep you out of those higher tiers.  If you enter into a lease agreement with the solar provider like mine, you're essentially agreeing to buy the power the panels generate at a set rate, which might be higher than the tier one rate from the power company, but should be low enough to provide savings in the short and long terms.
I had done some investigation into solar energy, but I had been told by multiple providers that my low usage didn't make me an appropriate candidate, so I had pretty much given up on the idea.  As I was walking out of my local Home Depot store one day, however, I stopped to talk to a representative from SolarCity who was set up outside.  One thing led to another, and I was on the phone a few days later getting a quote.  I got to work on my own calculations and soon came to the conclusion that I couldn't go too far wrong, so I signed up.  It took about two and a half months from the time I signed the contract until the system was up and running.  The majority of that time was waiting on inspections from the building department and power company.
What I ended up with was a 3.36kw system (14  240-watt panels on my roof).  The inverter is located inside my garage, as is as a small box that connects to my local network, that periodically sends data back to SolarCity.  The system went live last December and has been very quietly doing its job without fault ever since.
How Much Did I Save?
Every month, I track my usage and power generation in a spreadsheet and pore over my electric bill to make sure I have accounted for everything.  The spreadsheet helps me compare what I would have paid the power company based on my total usage to what I actually ended up spending between the power company and the solar power I've generated.  My total savings for the year was approximately $262.  This isn't a huge amount, but it's essentially a 15% discount for not doing much.  What's more, my potential for saving should increase over time, assuming electricity rates continue to climb.  And from an environmental perspective, the SolarCity web site informs me, "Your solar system has offset 7,697 lbs of CO2 since installation, the equivalent of 3.7 mature trees."
Chart 1 – Month by month cost comparison
This chart shows my total energy costs on a month-by-month basis.  There are months where I paid a little more with solar than I would have without, but most of the time I'm coming out ahead.  This is due to the fact that my solar rate is higher than my tier one rate from the electric company.  So, if I generate a lot but use a little, I pay more.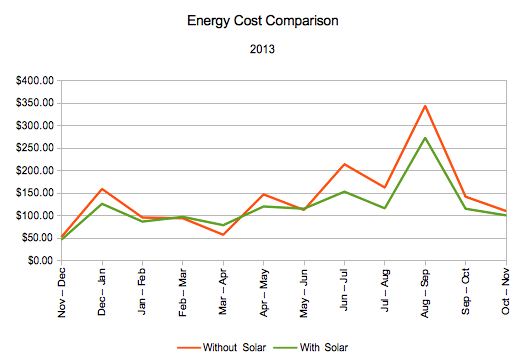 Chart 2 – Savings by month
This chart, as the title very appropriately implies, shows how much I save each month.  There were months when I paid a bit more with solar because my usage was low but my generation was high.

Chart 3 – Usage by tier
This final chart shows where the bulk of my electricity usage lay, with about 60% being provided by solar, nearly 30% in tier one, and the remainder in tiers two through four.  Almost all of my usage in tiers three and four is from a single billing period (August/September), which was also my biggest savings period.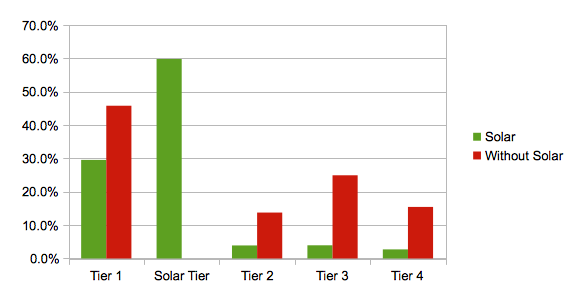 Other Power Savings
Many power companies offer various programs designed to "save" some customers a little bit of money.  Of course, they require some action on the customer's part in one form or another.  Southern California Edison (SCE), for example, offers several programs, such as Save Power Day where users are informed in advance of times when they should try to reduce their usage.  If they do so, they are rewarded with savings.  SCE also offers a Summer Discount Plan wherein they can remotely shut down a customer's air conditioning unit(s) as needed.  Some people don't care for the idea of allowing their power company to remotely do anything, but there are a few options that minimize the impact to customers, and may even allow them to override the shutdown if necessary.  I participated in this program and honestly only noticed once that my air conditioner wasn't blowing out cold air.  Never did I suffer, though, and I was rewarded with $180 in savings between June and September.  It's definitely worth checking out your utility's web site to see what options are available.
Interactive Monthly Calculator
I wrote this basic calculator to show how solar energy can affect a single month's electric bill, as well as to visually illustrate the idea of using solar to shift usage out of the higher tiers. If your power company uses a tiered structure similar to mine, you should be able to get pretty close to your actual bill on the "Without Solar" side by plugging in your numbers.  This is especially true for Southern California Edison and San Diego Gas & Electric, which are the two nearest utilities to me.
The "best guess generation" portion of the calculator comes with a huge disclaimer that it's based entirely off my measured results, which are a function of my geographic location, angle & direction of my panels, weather patterns in my area throughout the year, equipment, etc. Feel free to use it to get an idea of how it all works, but please remember that it is not an accurate reflection of your reality. I've defaulted the solar cost per kWh to an arbitrary $0.18, so you'll have to plug in your own number.  I'm assuming this varies from customer to customer based on your provider, the size of your system, and perhaps even annually if your plan dictates it.
The calculator will default to a higher usage summer month when the page loads, but you can click here to show a lower usage winter month. Both scenarios are based on a 3.36kWh system (like mine).  Notice the change in baseline hours, which varies by season and can be gathered from your electric company.
Solar Providers
I spoke with several solar energy providers as I began my investigation, and every salesperson I spoke to seemed just as friendly and helpful as the next.  Our conversations were typically very short, however, due to the fact that one of the first questions they ask is about your typical electricity bill.  The general rule seemed to be that anyone not averaging a $150/mo. wasn't worth their investment in time or equipment.  The SolarCity representative I spoke to didn't seem at all put off by installing a smaller system and provided me with a quote and all of the information I needed to run my own calculations.  Additionally, he happily answered my e-mails as I hemmed and hawed over the 20-year commitment.
When I was ready to sign up, the process was a breeze.  I was able to do everything I needed online, from signing the contract to tracking the progress of the installation from start to finish.  Everyone who came to my home during the initial inspection and the installation was thoughtful and took the time to explain what they were doing.  After my installation, they made me aware of the fact that a few roof tiles had been broken (not shocking), and returned the next day to replace them.
I am not able to recommend SolarCity over any other solar providers because I can only speak from my own experience, which is obviously limited to a single company.  However, I wouldn't hesitate to recommend SolarCity on its own merits.  They were willing to work with me when other providers weren't, they communicated well, they were thorough and thoughtful of my property, and I have not had any issues with billing, etc. that have led to anything other than an entirely positive experience.
That said, you should definitely shop around and get several quotes before making a decision.  There are many solar companies out there, and some may be able to offer more competitive prices or plans that better fit your scenario.  If it's not a purely economic decision, also try to keep a company's reputation and contractually documented plan for ongoing support and dependability in mind.
Conclusion
So far, I haven't saved a lot of money with solar energy through the lease program, but $262 in the first year is a lot better than nothing, and it's a decision I feel good about from an environmental standpoint.  I'm going to continue to track my power usage and savings in the same fashion that led to this post, and I'll be very interested in seeing how things go as time passes.  I have to assume that I will continue to save money, perhaps in larger quantities.
If you found this post interesting or helpful, please let me know.  It's easy to get too wordy spouting information that people already know, so I did my best to get some useful information out in as brief a fashion as possible.  If you end up signing up with a solar provider based on something you saw here, then by all means, tell them where you saw it.
Links to Solar Providers
Below are links to several solar companies, especially those in San Diego and Riverside counties.  In the spirit of full disclosure, I will receive a referral bonus from SolarCity if you follow my link and eventually sign up as a customer.  However, the intent of this post is strictly to share my experience, not drive business toward a particular company.  So, please employ your sharpest consumer skills and make the decision that's right for you.